What Happens When You Forget to Hit the Brakes?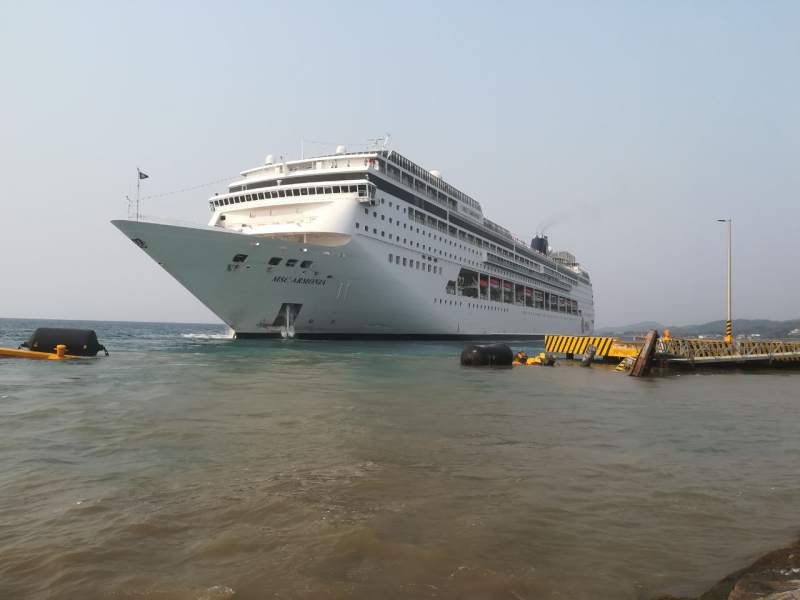 If you've been keeping up with the latest cruise news, then you've definitely seen how the MSC Armonia hit the pier as she was docking in Roatan last Tuesday. Well, a week has passed and no one's forgotten about it yet. Especially the Armonia herself, who is showing off her new hull "art" all over the Caribbean. As Armonia was approaching the pier, it was apparent from the start that something was wrong. She was headed faster than usual at a weird angle. Roatan natives knew something was off, since what seems like half of the island caught the incident on camera. You could look it up on YouTube an find literally 150 different angles and commentaries of the accident. A lot of people thought she was going to continue her path of destruction onto the shore, after demolishing part of the pier. You can't really blame them either. However, it was soon apparent that she wasn't going anywhere. She ran herself aground nice and tight. You can see in the videos that her bow thrusters are working very hard to move her away from shore, but she was dead in the water.
"Son of a beach!" Can you imagine the mayhem that must have ensued on the bridge? I mean, they threw both anchors out to try and stop Armona. I would not have wanted to been a first officer that day, that's for sure. I'm sure it was like that moment when you were a kid and you did something really bad that's impossible to cover up, but you don't want your mom to find out, even though she's going to anyways, because you KNOW she's gonna scream at you in that way that makes you question your existence.
After the crew of the Armonia got a stern talking to from mother MSC, they released a statement saying, "While maneuvering alongside, for reasons that are currently still being duly investigated, the ship deviated from her course and grazed the end of the pier." Okay MSC. I think grazed is and understatement. There is a DENT in the side of your ship. "There was never any risk for guests or crew on board. As to the ship, the damage was minor. She has also since been cleared by Honduran Port State Control authorities to continue her journey as soon as the necessary repairs are concluded. At the present time, ship personnel and external experts are still at work to complete such repairs."
Yup. They cleared the ship to sail. When I saw the video I thought Armonia was going to spend the next couple of days there. I guess she didn't take the worst of the beating. I mean, just look at the other guy. It was pier vs. 58,000 ton cruise ship. MSC ended up having to pay a fee of $500 dollars for the pier. I guess that's not covered by ship insurance. And you thought Geico covered everything.
Norwegian Getaway and Liberty of the Seas were supposed to dock in Roatan in the coming days, but had to divert due to the damage. It's all fun and games until someone "grazes" a pier. Am I right?