Brilliance of the Seas Pre-Cruise Blog and Day 1 Review: Embarkation
Recently, my family and I, embarked on an 8 day vacation over spring break. After searching extensively for a condo in Florida for spring break and coming up empty handed, we decided that we would go on a cruise instead.
We originally tried book a room on the Brilliance of the Seas on Sunday, January 17. However, there were no rooms available.
The Next weekend on January 23, we looked again, and there was an availability. So we booked it immediately. The countdown had begun.
The first thing I did was create a cruise portfolio. This included a plan for everyday of our trip, information about the ship, our flight information, our cruise boarding pass, and copies of our passports.
I had come up with the idea to make shirts that said "Morrissey Family Cruise 2016" along with the Royal Caribbean logo and our names on the back. We went to Wal-Mart and bought white t-shirts and blue iron on letters. They ended up turning out great. See picture below
After what seemed like a very long wait, the day had finally come that we were going to fly to Florida for our cruise. March 25. We decided to fly Allegiant Air Lines for the very first time. We had a 2 hour flight in to St. Peter, Clearwater International Airport, which was just about a 20 minute ride from Tampa where the ship was leaving from.
Instead of renting a car, we decided that we would use Uber to save money.
Tip: Instead of renting a car to sit in a cruise terminal parking lot for 5 days, use Uber, Lyft, or a local taxi service so you don't have to pay for a car and parking daily
We had to stay in a hotel in Tampa the night before our cruise. We stayed at the Tampa Airport Marriott. It was very nice and accommodating, and I highly recommend it.
Now on to the cruise.
Day 1- March 26- Embarkation
Cruise day was finally here. We ended up getting up and dressed around 8:00 AM, since we wanted to get to the ship as early as possible. So we put our family cruise shirts on and headed down to the lobby for breakfast. We did get some interesting looks on our way to, and at, breakfast because of our shirts.
After breakfast we got in an Uber and headed to the Tampa cruise terminal for the Brilliance of the Seas.
It ended up being about a 15 minute drive form our hotel to the terminal.
When we arrived, our bags were immediately taken by porters, which was nice since they were pretty heavy. We then went up to the second floor and went through security.
Cruise terminal security is nothing like airport security. It's not stressful, you don't have to take your shoes off, you don't have to take your belt off, and you don't have to take your laptops out. All you have to do is put your bag through the x-ray machine, and take everything out of your pockets.
After security, we went over to get our cruise cards so we could board the ship. It didn't take long at all, except for some errors with passports not being read by the machine correctly.
We could now finally board the ship.
While boarding the ship, they did the usual taking-your-picture-in-front-of-everything-to-try-to-get-you-to-buy-it. Here are our boarding pictures below.
Once we boarded the ship, we were greeted by a very nice and enthusiastic crew. We ended up boarding at around 11:30.
The first thing we did was got to the Windjammer for lunch, since our room wouldn't be ready for another hour.
The Windjammer was very crowded, (which we expected since it was lunch time, and embarkation day, and that's usually where they go first) but we booked a suite, which allowed us to sit in the gold section where there were hardly any people.
The staff was very nice and courteous, and the food was very tasty and delightful.
We decide to buy the Ultimate drink package before the cruise, so we could get whatever drinks we wanted. The ultimate drink package is pretty pricey, but it is definitely worth it.
After sitting in the Windjammer for about an hour and a half, our suite was finally ready. We booked the Aquarius suite, which is room 1562 on deck 10. It had a wonderful view off the starboard (right) side balcony. It also featured a full size couch bed, a king size bed, a rotating TV, a place to do make up, 2 closets, a safe, a very large bathroom, a bidet, a standing shower, a Jacuzzi tub, a double vanity sink, and a standard jet powered toilet.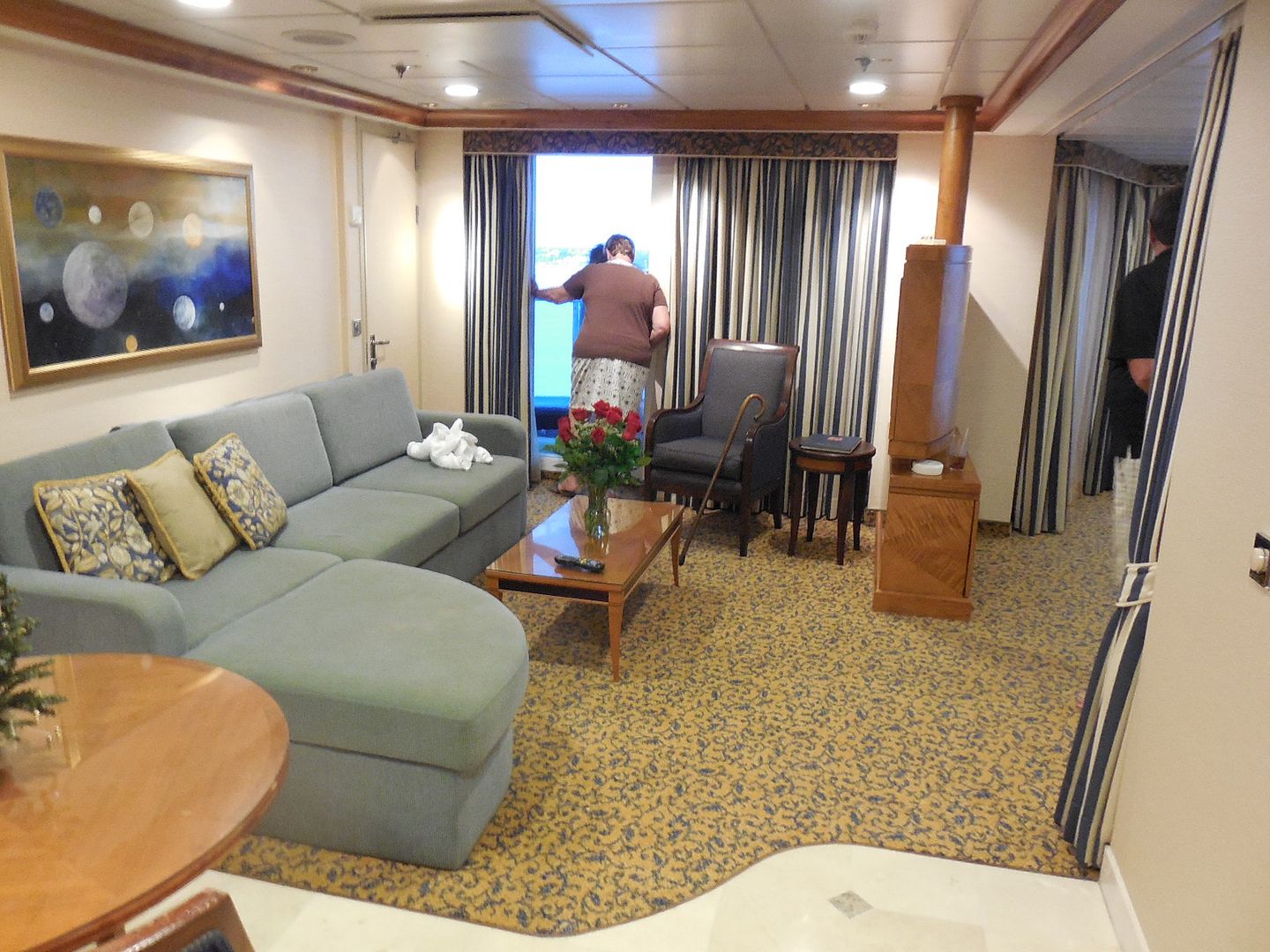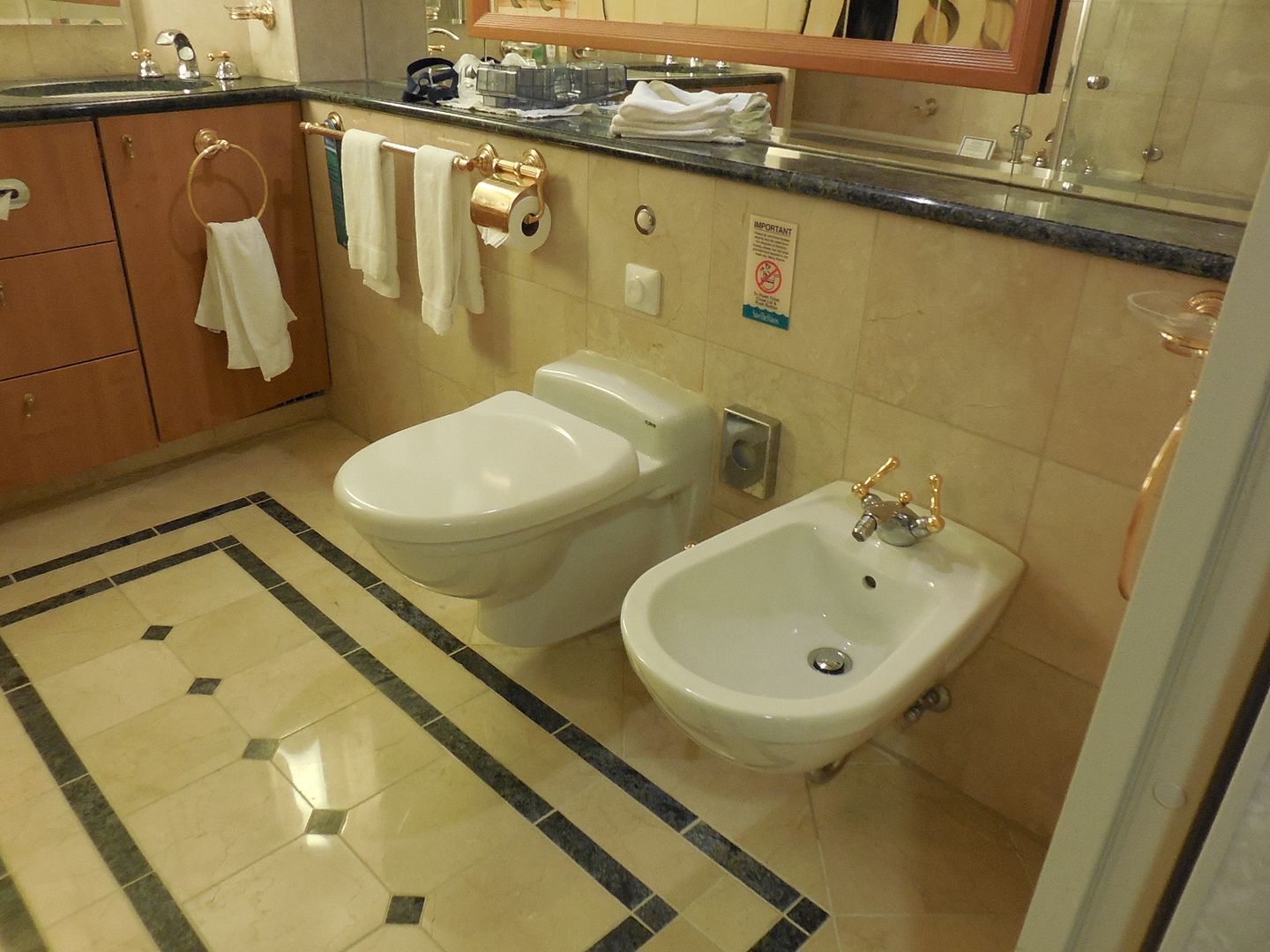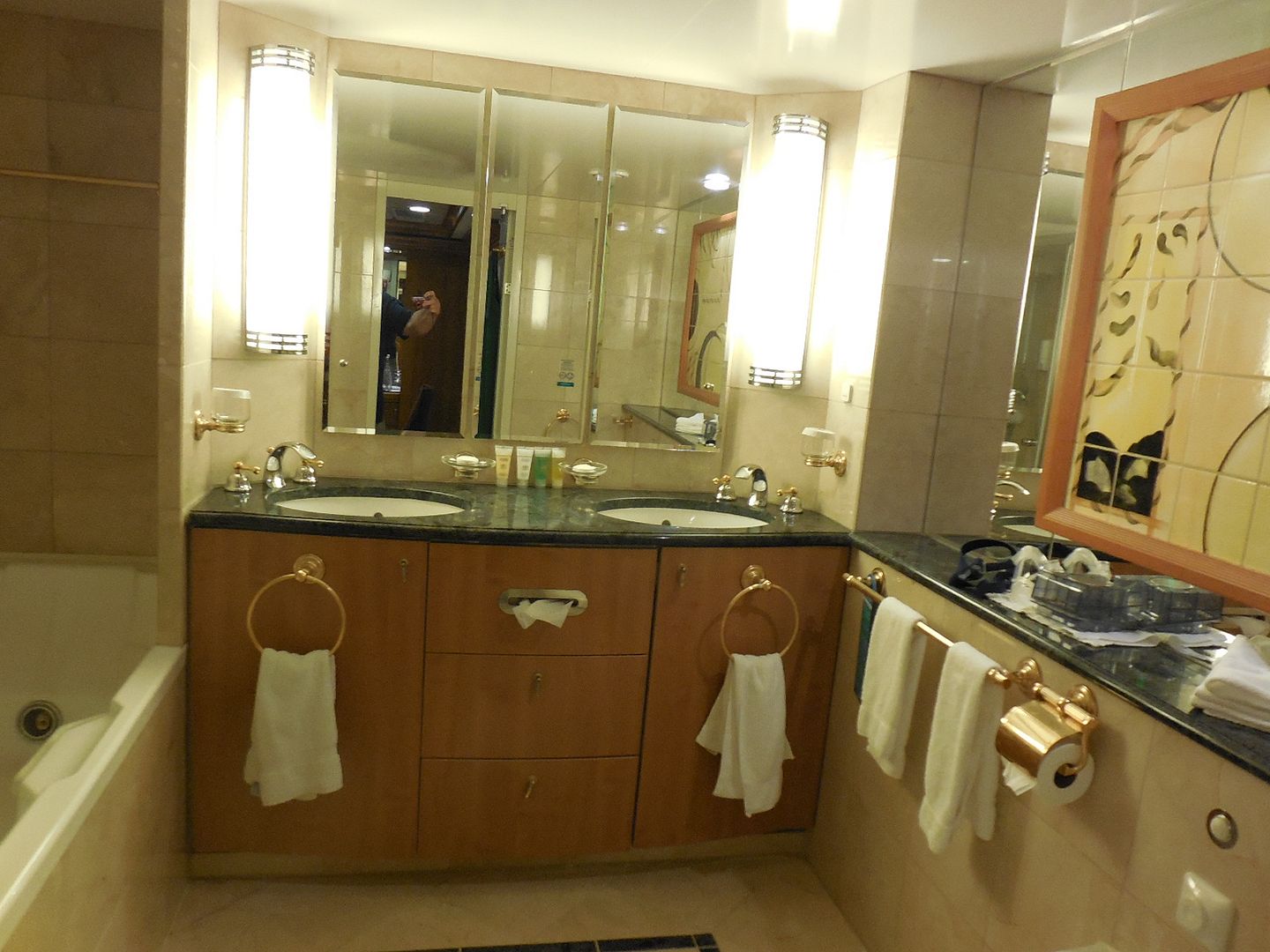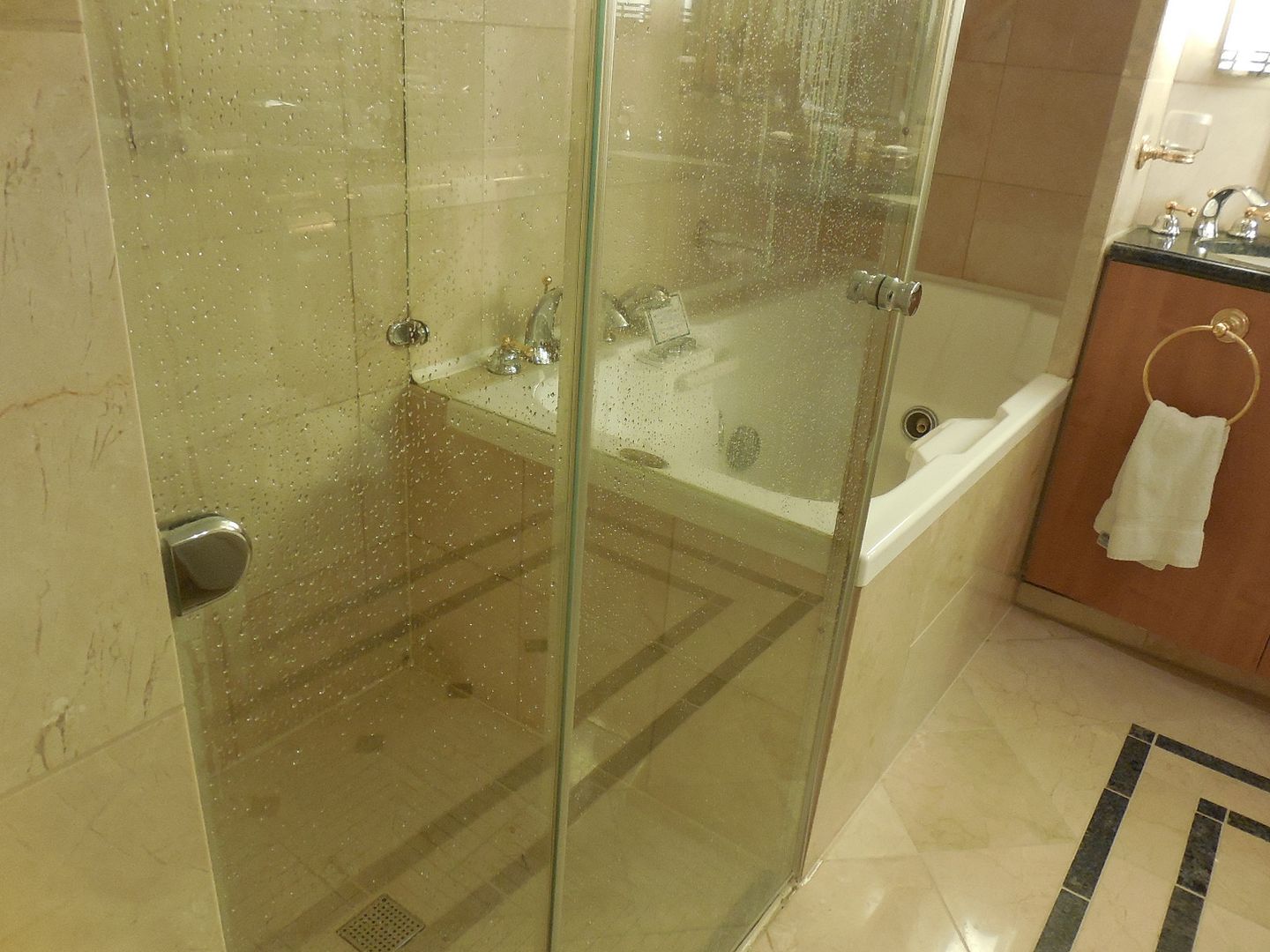 We ended up really liking our room, except for a pretty major problem that I will get into later.
When we got to the room, there were chocolate covered strawberries, sushi, crackers, and fruit. We had stopped on our way to our room to go to the pool bar to test out our drink package. We ended up getting two vodka tonics and two virgin strawberry daiquiris. The drinks were really good, and they were even better on the balcony.
Then it was time. The part of embarkation day that everybody hates. Muster. At 4:30 PM the alarm started ringing, and we headed to our station. Since we had a person in a wheel chair in our party, we were allowed to use the elevators. Our muster station was W11, which was on deck 6 in the front of the Schooner bar.
We had some trouble finding it because the "directors" lead us the wrong way a couple of times, but eventually we found it.
When muster was over, we went down to deck 5 to the helipad for sail away. I highly recommend going to the helipad for sail away, because not a lot of people know how to get there.
At about roughly 5:00 PM, we set sail on our 5 night Western Caribbean cruise to Key West, Florida, and Cozumel, Mexico.
After, leaving the helipad, it was about 5:30 and almost time for dinner. We had booked the 6:00 PM seating. Our dining room was on Minstrel deck 4, and we were guaranteed a 4 person table just for us.
When we got to the dining room, we were all really excited because we were being lead to a window seat alone. However, our dreams were soon crushed when we saw that there was a couple sitting at our table (they were really nice and we had nothing against them, it's just that we were expecting it to just be the 4 of us).
Our waiter was very nice and accommodating. First he let us select our bread and then he took our orders. I got the sea food pasta. It was very good, but I didn't really care for it. For dessert we got vanilla ice cream, which was very good.
After dinner, we went to the shop to buy lanyards for our cards so that we didn't lose them. I highly recommend buying lanyards for your cruise card, because it really helps you keep track of it better.
When we got back to our suite, it was turned down for night. Our cabin steward, Finster, did an amazing job. He made our room look beautiful. The lights were dimmed, the curtains were closed, and the couch bed was pulled out.
It was time for bed and we were all pooped.